World Day of Romani language!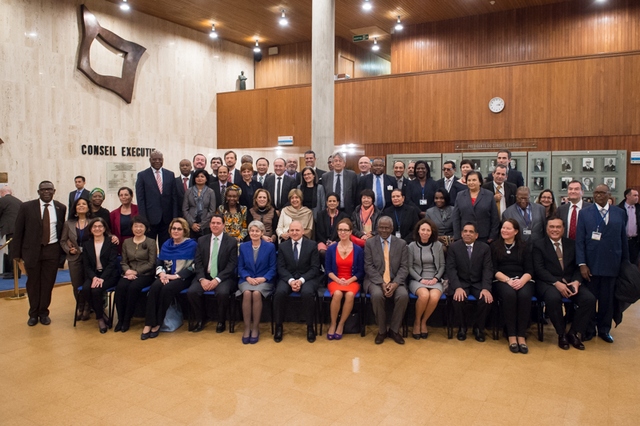 Plenary meeting of the executive board
Yesterday, October 21st at the regular session of the Executive Board of UNESCO, on the initiative of the Republic of Croatia, was made a statement on the appropriateness of proclaiming the World Day of the Roma language. The last paragraph of this document is a recommendation to declare November the 5th as Day of the language of Roma people or World Day of Romani language, which would be celebrated annually. Declaration this fact was assigned to the 38 members of the General Assembly of UNESCO, which will be held in November 2015.
This is a very important step in terms of consolidation and solidarity of Roma communities, taking into account the fact that they have no own country. But they have things that unit them: common traditions, culture, symbolism and not a standardized set of words (about 33 thousand).
For the first time, the problem of the Romani language or "romani chib" was raised back in 1971 at the World Romani Congress in London. With the support of UNESCO and declaring the Romani language day, it will attract considerable attention to modernization and standardization of the original language, with further mainstreaming in education, and on other levels.
Croatia has made significant contributions to support the cultural heritage of the Roma population. It is the first country which in 2012 unanimously declared the November 5th as celebration of the World Day of Romani language. The official Zagreb called a number of other European countries to join for this initiative.
Yesterday, the country made the key point in the actualization of this issue. We are confident that at the General Conference of UNESCO in November, it will be announced the establishment of the day on that the Roma community will see how large and significant contribution they make to the world cultural heritage.
Iryna Myroniuk,
The Charitable fund "Progress"
PS: The centers of legal information and advice that provide free legal aid to Roma people working with the support of the "Roma of Ukraine", International "Renaissance" Foundation. To learn more about the activities of a network of centers, foundations and principles of work visit the website www.legalspace.org under "Legal Empowerment of Roma communities." The views in this article are those of the authors and do not necessarily reflect the opinion of the International "Renaissance" Foundation and other civil, religious and political organizations and individuals.