Films about Roma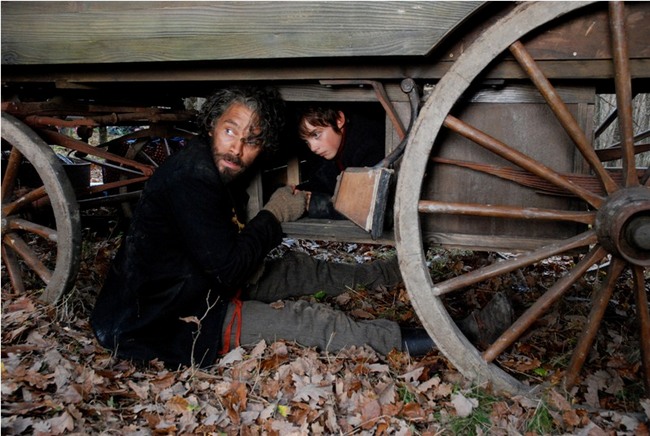 Scene from the film «By itself» Tony Gatlif (2009).Source
How are looks like Romani traditions, their history and culture in the eyes of filmmakers? We offer you a selection, which made Eugene Kogan.
Movies "Good luck" and "By itself" Tony Gatlif

Algerian living in France Roma Tony Gatlif called one of the fathers of the Roma cinema: in many of his films, and now they are more than two dozen, he uses as a basic the Romani language. You need to see all of them, but should start with two. "Good luck" ( "Latcho Drom", the prize of the Cannes program "Un Certain Regard" 1993) – a film about the spread of the Roma in the World is half-fiction, half-documentary, filled with music. The second – "By itself" («Korkoro», the Grand Prix Festival Montreal, 2009): the film is based on real events and is dedicated to the Romanian Roma, hiding from the German executioners. The action takes place in occupied France in 1943.
The film "The buyers of feathers" Alexander Petrovich

"The buyers feathers" («Skupljači perja») – the most famous film of director Alexander Petrovich. Poetic story of marginals – buyers-goose feathers, love, enmity and hatred, in 1967 received a special jury prize at the Cannes Film Festival and nominated for the "Golden Globe" and "Oscar". According to Emir Kusturica, namely "The buyers of feathers" finally convinced him to become a filmmaker.
The film "Time of the Gypsies" by Emir Kusturica
The epic saga "Time of the Gypsies" – the most famous film by Emir Kusturica, phantasmagoric story of a young Roma who by look can move objects; of magic, love and revenge with interlacing sets of plots and a huge number of characters. Much of the film is removed on the Romani – Western Roma dialect. The central theme of the movie musical «Ederlezi» taken from the eponymous Roma songs popular among the Roma of the former Yugoslavia. "Ederlezi" means "Iuri's Day" – a holiday in honor of St. George, which the Roma consider their patron. On this day slaughter sheep and the hero of the song – the poor boy has no such possibility, and watching from afar on the holiday. In 1989, the film won a prize at the Cannes Film Festival for Best Director.
Translation by Iryna Myroniuk from the source http://arzamas.academy/materials/47