Integration of Primary and Secondary Legal Aid to Support Vulnerable Categories of citizens in Transcarpathian region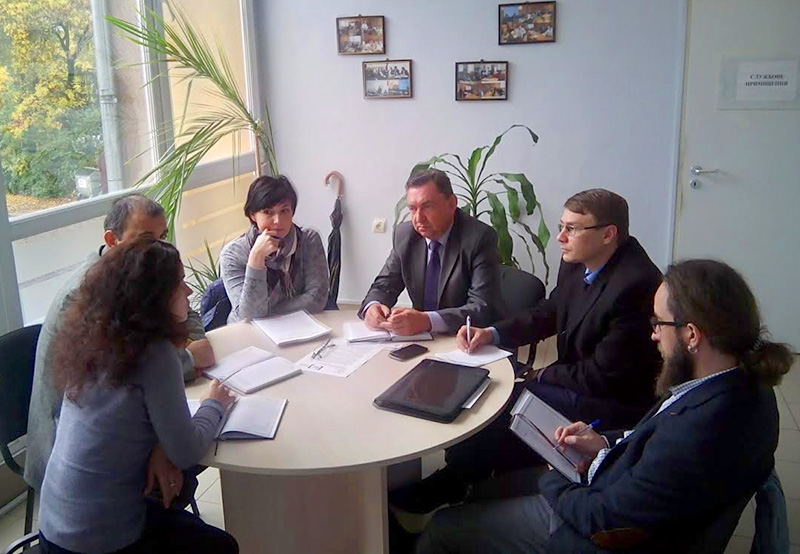 To unite experience, knowledge and resources of state and civil society sectors for providing free legal aid to vulnerable groups of the population of the Transcarpathian region a strategic decision was made in Uzhgorod on October 20, as a result of the working meeting of the regional center administration and regional coordinator of the Authorized Human Rights Representative of the Verkhovna Rada of Ukraine in the Transcarpathian region Oleg Grigoryev and representatives of the Charitable fund "Progress".
The main goal of the tripartite dialogue held in the regional center for free secondary legal aid in the Zakarpattya region was to establish cooperation, to specify common priority goals for further work to expand access for residents of the Transcarpathian region to primary and secondary free legal aid and their further integration.
During the meeting the plan of actions on expansion of access for residents of the Transcarpathian region to legal aid through the joint activity aimed at creating city targeted programs, at least, in 5 cities of the region was also discussed. It will allow residents of the Transcarpathian region to use legal system and legal services for free since 2016.
Director of FSLA of Zakarpattya regional center Vasyl Popadynets noted:
"Regular monitoring of legal system and ensuring high-quality services in the sphere of providing secondary legal aid in the Transcarpathian region are key elements of effective and efficient legal system. We assume responsibility for quality of aid; therefore, we cooperate only with lawyers who have the high level of legal education and constantly increase the level of their professional qualification".
During the event Coordinator of projects of the Charitable fund "Progress" Natalia Kozyr shared her experience of creation and introduction of the first in the Transcarpathian region targeted program on providing free primary legal aid to residents of Mukachevo.
The human rights activist noted that today in Ukraine access to free primary legal aid is mainly provided by the non-state sector.
"Now such activity is carried out by the network of legal reception offices of the Ukrainian Helsinki Human Rights Union and All-Ukrainian network of Community Law Centers created with the support of the International Renaissance Foundation. In the Transcarpathian region there is only one center that provides regularly professional legal aid. This is Mukachevo Human Rights Center. This year the system of free secondary legal aid covered civil and administrative cases and coordination centers also started to provide primary legal aid. Therefore, it is high time to unite best practices for expansion and promotion of culture of providing free legal aid throughout the Transcarpathian region", Natalia Kozyr stated.