Millennial Continuing Discrimination Against the Roma in France: Roma Protest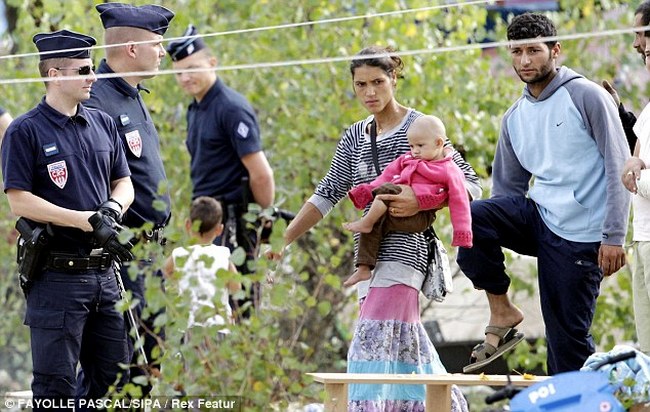 Source
«The deportation of Roma can be compared with the deportation of Jews by the Vichy era» – Viviane Reding, European Commissioner for Justice, Fundamental Rights and Citizenship.
French President Nicolas Sarkozy called an emergency ministerial meeting, at which it was decided that some 300 illegal camps and squats would be dismantled within three months.
A statement from the president's office said the camps were "sources of illegal trafficking, of profoundly shocking living standards, of exploitation of children for begging, of prostitution and crime". Dozens of camps have since been shut down. Those found to be living illegally in France are being sent home.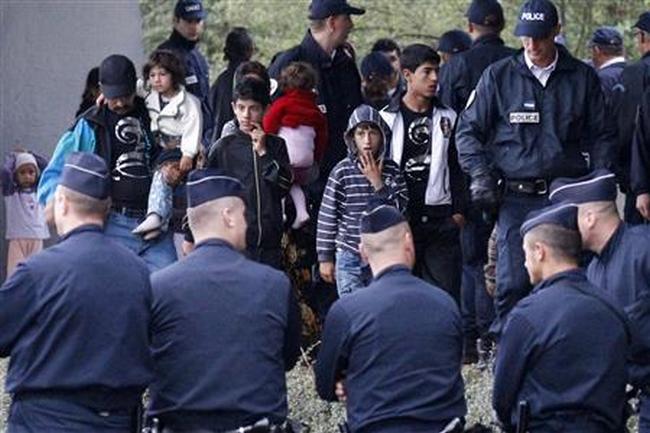 Source
Over the past six weeks the French authorities have expelled almost 1,000 Roma and demolished scores of camps, while repeatedly denying that the families were the target of the campaign. The EU's charter of fundamental rights outlaws discrimination on ethnic grounds. The leaked French policy paper showed the Roma were targeted collectively. Since Sarkozy ordered the campaign in July after Roma ransacked a police station in response to the killing of one of their community by the police, around 100 encampments have been demolished. The leaked interior ministry document stipulated that 300 had to be closed down as a priority. Most of the 900 deportees have been put on planes, mainly to Bucharest, after receiving 300 euro plus 100 for each child and signing a declaration that they were leaving voluntarily. Questions are being asked about the degree of coercion. The remainder are said to have been kicked out due to criminal records. Under EU rules anyone being deported represents a separate, individual case with rights of appeal.
The move is part of a raft of new hardline security measures recently announced by the government, which has struggled with low approval ratings in the opinion polls.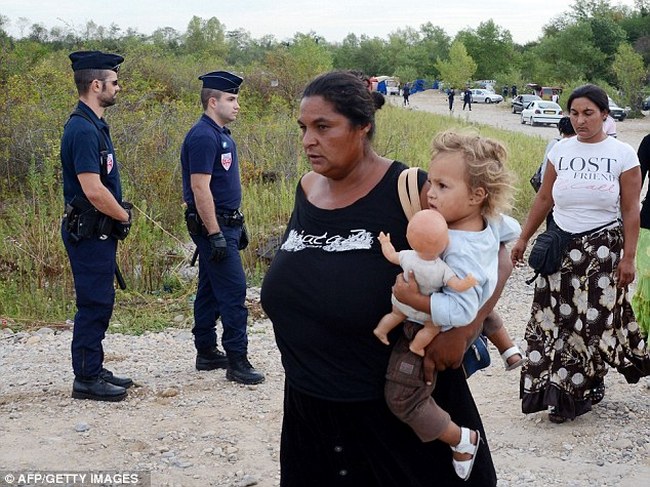 Source
The deportation of Romanian and Bulgarian Roma in France as part of the destruction of illegal settlements (camps), which began in July 2010 for certain, is controversial, though this is experienced widely criticized by EU.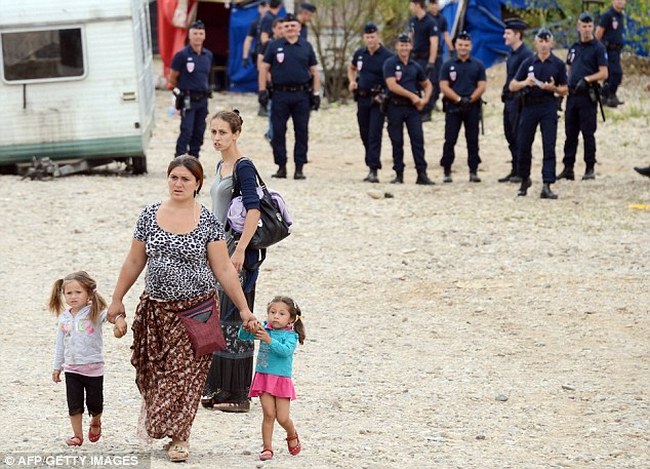 Source
The European Roma Rights Centre said Mr Sarkozy's plan "reinforces discriminatory perceptions about Roma and travellers and inflames public opinion against them". Romanian President Traian Basescu said he understood "the problems created by the Roma camps outside the French cities" but he insisted on the "right of every European citizen to move freely in the EU". The UN's Committee on the Elimination of Racial Discrimination sharply criticised France's crackdown and said racism and xenophobia were undergoing a "significant resurgence". The Vatican and other Church leaders have also voiced concern.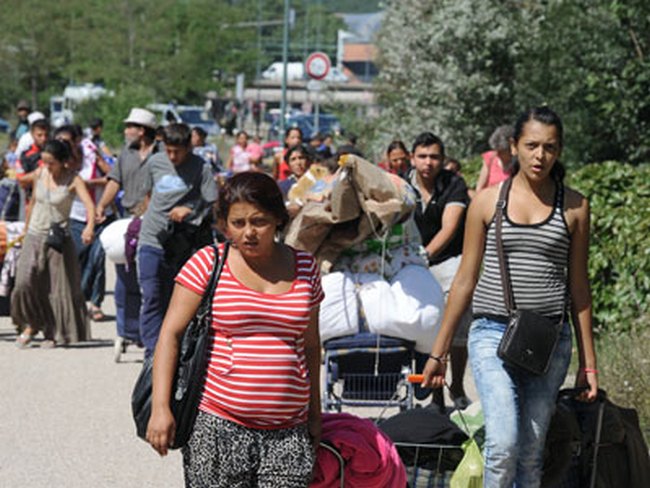 Source
Wholesale action against an ethnic minority would violate EU anti-discrimination laws, including the Charter of Fundamental Rights.
In a speech to the European Parliament in September Ms Reding deplored the fact that a leaked official memo had contradicted assurances given to her by France that the Roma were not being singled out. "This is a situation I had thought Europe would not have to witness again after the Second World War," she said. Many MEPs also condemned France's deportations. The Commission has set up a task force to examine how EU funds earmarked for Roma are being spent. It is also checking to see whether any other member states are violating EU rules in their treatment of Roma.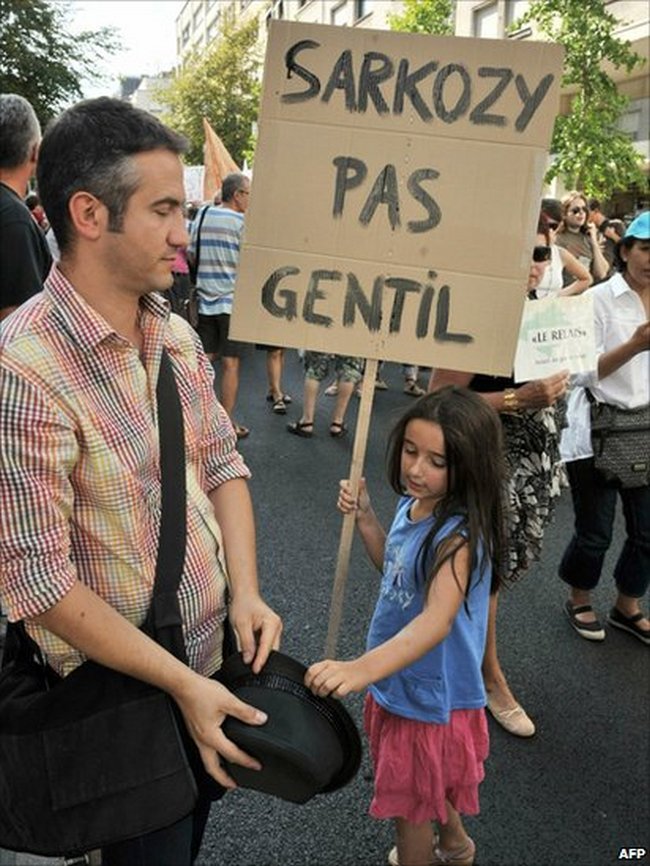 A little girl holds a placard reading "Not nice, Sarkozy". Source
Human Rights Watch's 19-page briefing paper details the way in which a new immigration law, enacted in June 2011, falls well short of complying with France's obligations under EU freedom of movement rules and international human rights law. The paper also argues that there is ample evidence that France is unlawfully targeting Roma for camp evictions and expulsions : «Over the past year, thousands of Romanian and Bulgarian Roma have been ordered to leave France under procedures that violate their rights, Human Rights Watch said. The orders are frequently issued on a large scale in the days leading up to or during evictions from informal camps, without sufficient examination of the individual circumstances of the people there.»
Roma massively opposed the planned rate Sarkozy's policy and came out to protest, which was supported not only by residents of France, but other conscious citizens of the world.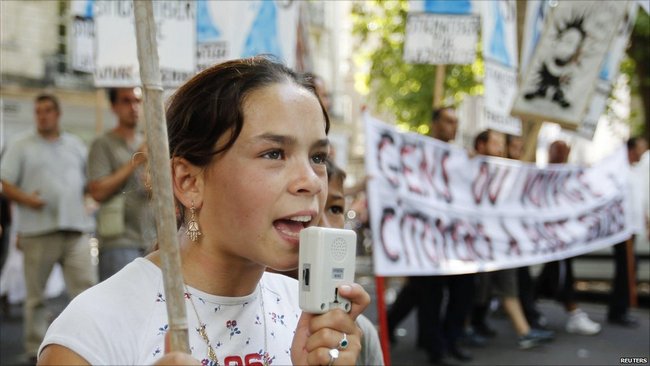 At least 77,000 people demonstrated across France on Saturday in protest at the government's policy of deporting Roma people. Source BBC
According to BBC News, the disagreement with the policy of President expressed tens of thousands of French. In Paris, police estimated the number of protesters at 12,000 people, while organizers insist that the event brought together about 50,000 participants. According to organizers, similar protests were held in 135 towns of France and the French embassy in London, Brussels and Bucharest.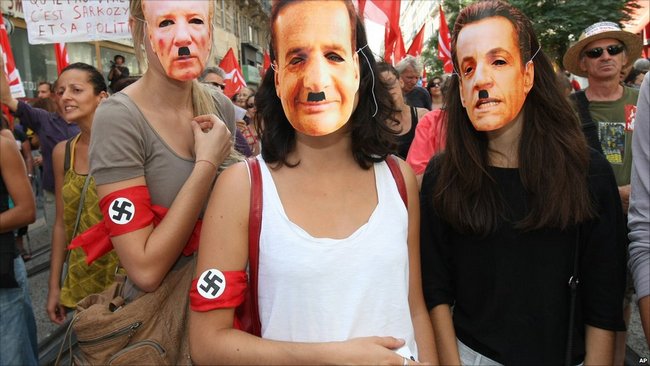 Demonstrators in the French city of Marseille wear Nazi masks mocking government members, 4 September Source BBC
Such actions should condemn and to make lawful resistance in the field. The method of "deportation" of people who have a legal right to live where they please, the question of any such resolve is not possible, no matter whom they relate. Worth every assistance and help those who have moved to a better life. Children who feel the oppression of all discrimination antiziganism from the state apparatus, will never be happy and will never build a happy country. But if we want to change this world where everyone on equal rights and opportunities, we do not have to go through that way, what chose Sarkozy's administration.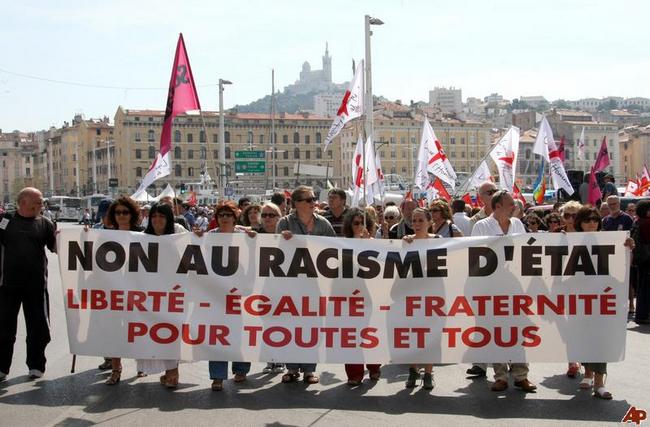 "No to racism of the state" . Source
Iryna Myroniuk,
Human Rights Fund "Progress"
The materials, which were used:
https://www.theguardian.com/world/2010/sep/14/roma-deportations-france-eu-disgrace
http://www.bbc.com/news/world-europe-11027288
http://www.unian.net/world/397477-v-parije-proshla-demonstratsiya-protesta-protiv-deportatsii-tsyigan.html
https://www.hrw.org/news/2011/09/29/france-one-year-new-abuses-against-roma
http://www.romea.cz/en/news/world/france-resumes-deportations-of-roma-people-from-romania