OSCE representatives studied the problems of Roma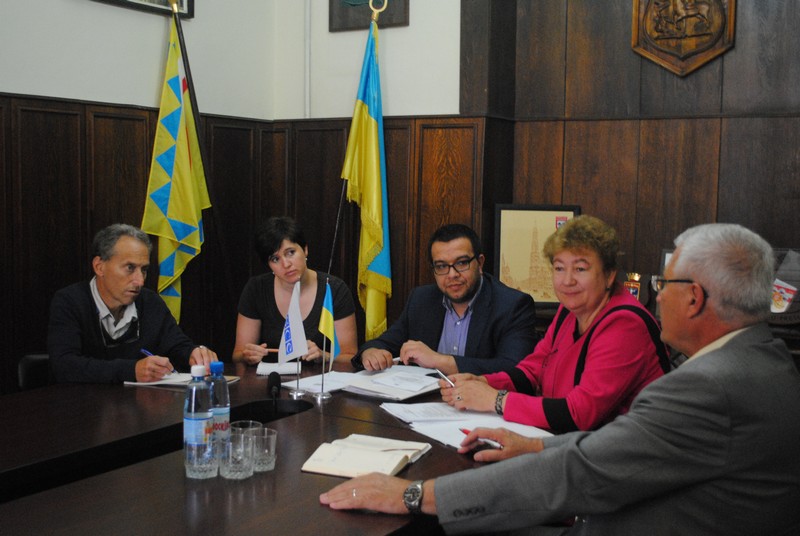 Discussion of the problems of the Roma community in Mukachevo, Transcarpathian region
Mukachevo was visited by the representatives of the OSCE – experts of the OSCE Contact Point for Roma and Sinti Issues Idaver Mamedov and Steve Vesler. Representatives of the organization have arrived to monitor the protection of the rights of the Roma community.
On June 25, 2015, in Mukachevo OSCE representatives met with the mayor of city Zoltan Lendiel, representatives of services for social protection of the population and the city executive committee of Mukachevo RGA, departments of education and migration services, law enforcement officers. Also, the meetings were attended by the representatives of the Charitable Fund "Progress", which is actively engaged in protecting the rights of the Roma community in Ukraine. The representatives of the European organization got acquainted with the situation of Roma living in Mukachevo, Uzhgorod and Vinogradov.
The meeting was opened by Steve Vesler with words:
"We will study the interaction between the law-enforcement agencies and Roma in the Transcarpathian region. Then experts will travel to Slovakia, where they will continue to explore this theme through the work of the focus groups"
By the way, the attitude of the law enforcement officers to representatives of the Roma community was one of the key and most sore questions that were voiced by the very Roma. During a meeting with the European experts, the minority representatives have complained that they often face with the problem, when being stopped on the road by traffic police, without any proper reason.
Also, there is the issue of discrimination against Roma not only by police officers but also by other public authorities. In particular, it is the blocked initiative of the creation the Roma Self-Government Body by the local governments.
Another and, perhaps, the biggest problem is the almost total absence of the social infrastructure for the Roma community, which makes the adequate socialization of minority in society almost impossible.
Currently, Transcarpathian rights defenders are engaged in protection of Roma; they presented their strategic lawsuits. Also, they noted: through the discrimination of the Roma community, reluctance to be involved into the development of socially important decisions for Roma, the most of the community is now below the poverty line, without the smallest and most basic means of life and civilization.
In turn, Idaver Mamedov noted that European institutions promote the development of the human rights movement in Ukraine and will respond to violations of the rights of Roma. To do this, the parties agreed to cooperate more closely. Yes, Transcarpathian defenders will send so-called "shadow reports" (unofficial) to the European structure to have as much as possible information about the situation and to adequately, effectively respond to it and provide assistance.

The press center of the Charitable fund "Progress"
Photo taken from the source