Roma Traditional Craft: Basket Weaving (The Story of the Roma)

Source
In the crafts brought from India, Romanies used to be respected and honoured masters. In the course of time, however, almost all classical crafts died out. On account of assembly lines, computers and plastics Romanies lost the source of their modest livelihood.
The basket weaving trade features among the oldest, widest-spread and most respected Roma professions. It fits the Roma in so far as Nature offers the raw material (willows) free of cost and – more importantly – everywhere. Usually, Roma could not do jobs which bound them to a certain place. When they had to move on, a change of place should not lead to a change of profession. As we wrote earlier, there was a special kind of vagon "Brush van" by which Roma can not oly traveling or living, but also traded.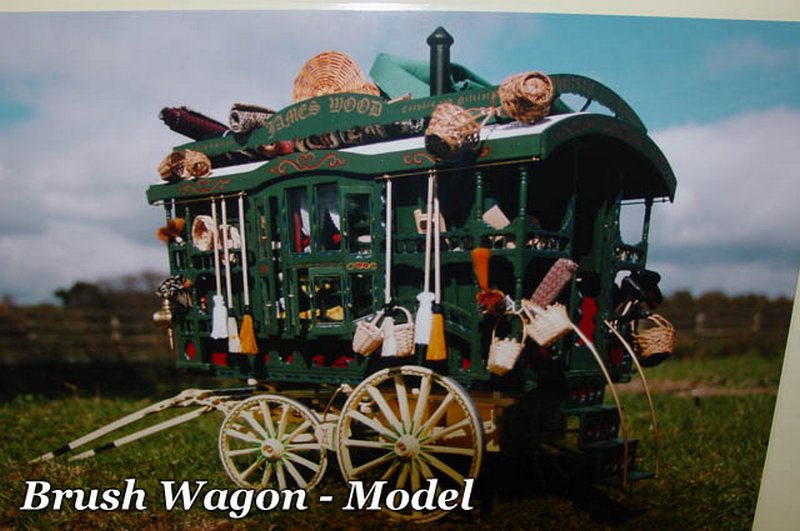 Source
Basket makers were and still are present in most groups of Roma. However, this profession was of particular significance in the Greek – Turkish area. The Sepečides (basket makers) are the group whose social structure is most strongly connected to this profession. Their ancestors lived as nomads in the area of Saloniki up to the war between Greece and Turkey (1919 – 1922). After the Treaty of Lausanne (1923), in which a population exchange was agreed on, they had the choice to either change their religion or to leave Greece. So, the Sepečides split up into a "Turkish" and a "Greek" group. The Turkish group traveled to Mersin and the Izmir area, those who stayed in Greece converted to Greek-Orthodox faith, left Saloniki and moved to Volos.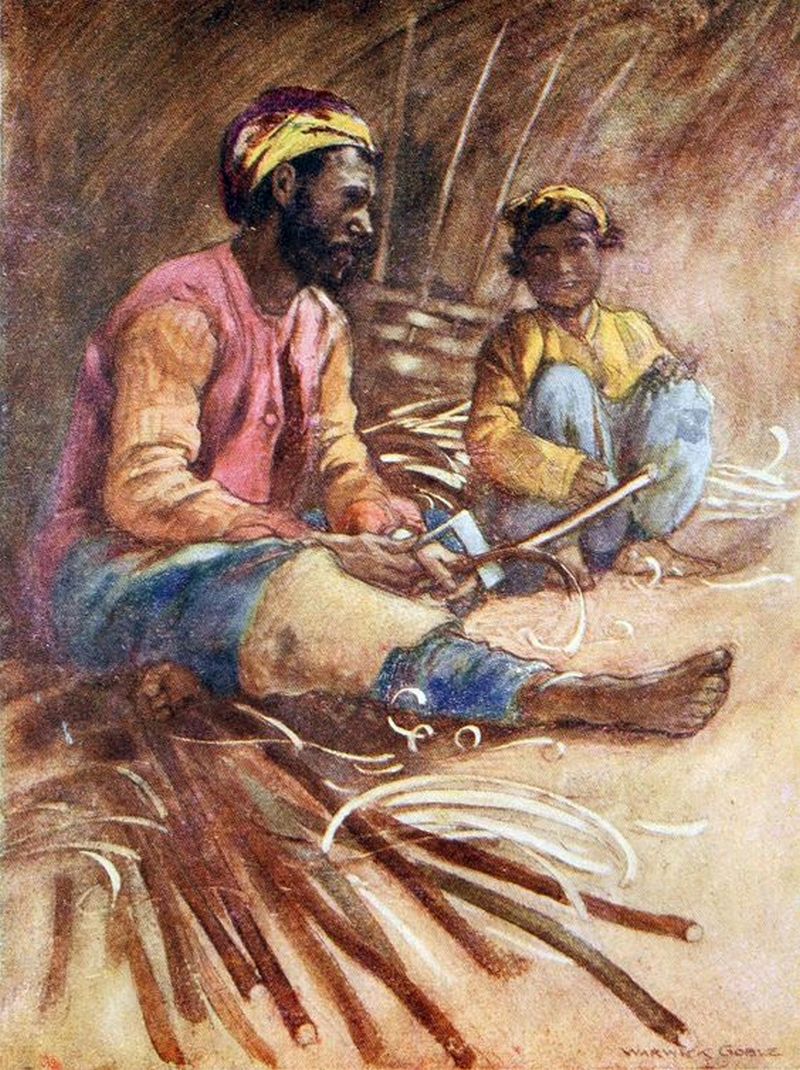 Source
Up to the middle of the last century, whole settlements could earn their living as basket makers. One of the best-known settlements of basket makers was near Çırpıköy, a village near Izmir. At first, the Roma were living in huts made of reed (kalives) on the outskirts of Çırpıköy, but they had to leave their phurane thana (the old places) because of the great danger of fire, and settled in the town. Some Roma also moved to Izmir.
The women exchanged the baskets, which were made by the men, against goods which could then be traded on the market. This intermediate trade assured a small extra income. The Sepečides in Izmir did not have competition by Non-Roma or other minorities, which was a great advantage. Their skill was respected, and all social levels had to rely on the services of the Roma. There was no alternative to woven baskets, which were mainly used for storage and transportation of food. Because of their low weight and their high stability these baskets – equipped with leather straps – were very well suited for carrying heavy things, such as wood, metal or stones.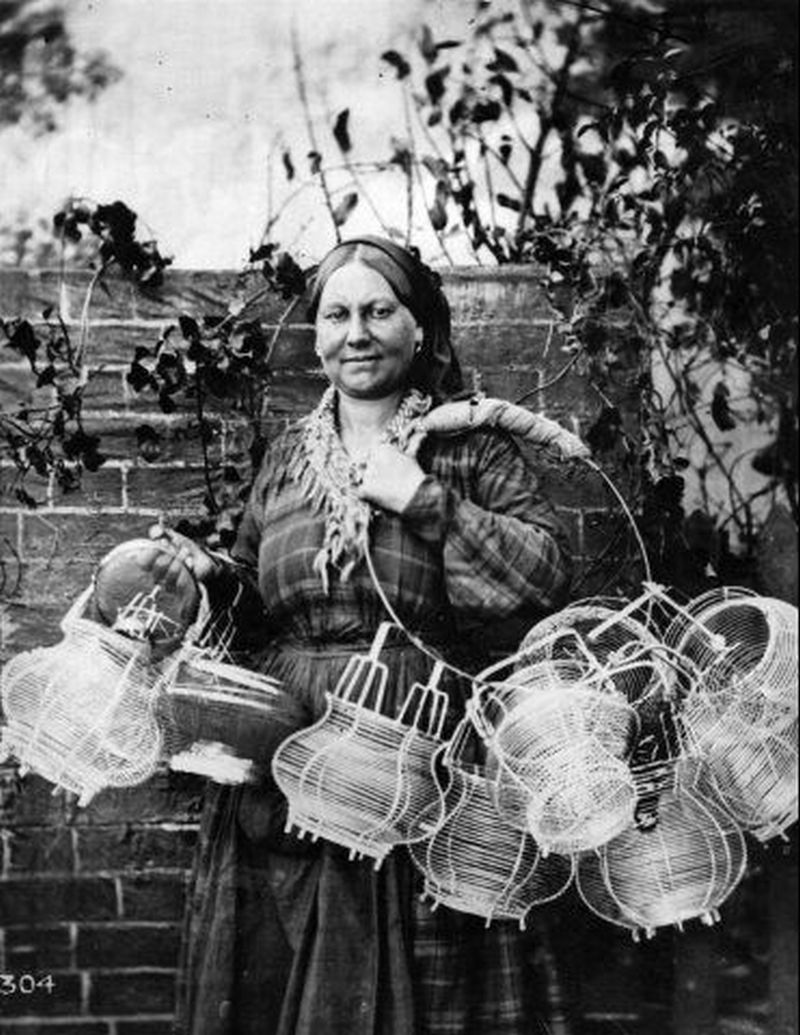 Source
All over Europe, it is the branches of the weeping willow that are used as raw material for basket weaving. They are cut in spring or in autumn, sorted and put into bundles according to size and quality.
The first step in making a basket is weaving the basket's bottom. At the bottom's edge, vertical side "pillars" are fastened in regular intervals, which are bound together at the top end. Similar to weaving carpets, the willow rods are woven upwards until the desired height is reached. The cut edges are woven into a wreath.
Those Burgenland-Roma who specialize in basket weaving use the un-boiled, white rods for making beautiful laundry- and shopping baskets. They use the boiled, reddish-brown rods for bigger, more functional baskets.
Like for all traditional Roma professions, the significance of basket making has decreased continually over the last century. [Professions: Historical Development] With the appearance of plastic and industrially made baskets, basket weaving has become increasingly unprofitable. Most basket makers could not maintain their position in view of cheap competition. They had to find ways to get an extra income, and, in the end, had to give up their profession and turn to another trade. Nowadays, only few Roma work as basket weavers.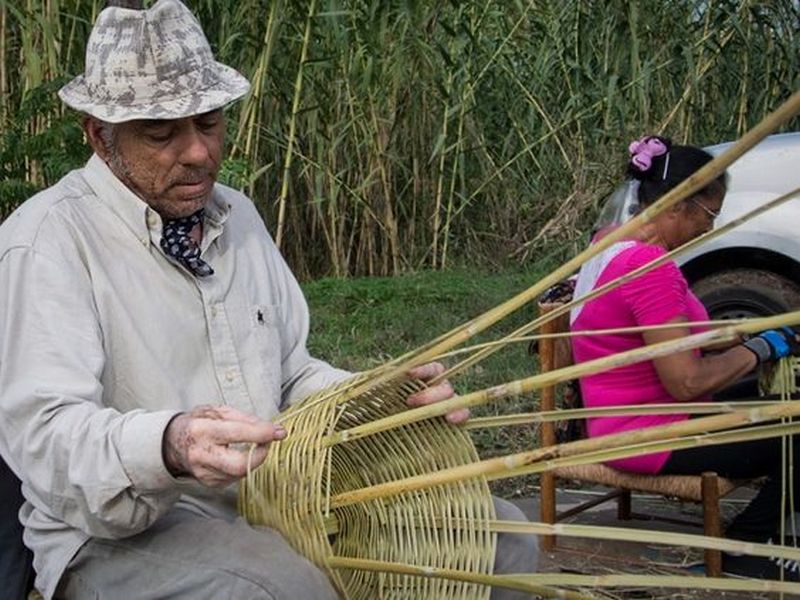 Source
Transcarpathian Roma continue the tradition of basket weaving in many places, especially in villages Koshelev (Khust district), Vary (Berehove area). The village Iza that in Khust area is kind of basket weaving capital of Transcarpathia. In the New Village in Beregovo City, 70 Roma families annually weave of wicker products. Everyone respected head of Roma families honed a craft producing by refined products. Residents of neighboring territories willing to buy baskets for cereals, potatoes, grapes and other fruits and vegetables. Roma women are an introduction to the case, make products from cane. This trade not only feeds the Roma family, but also helps to preserve the ancient traditions of the Roma.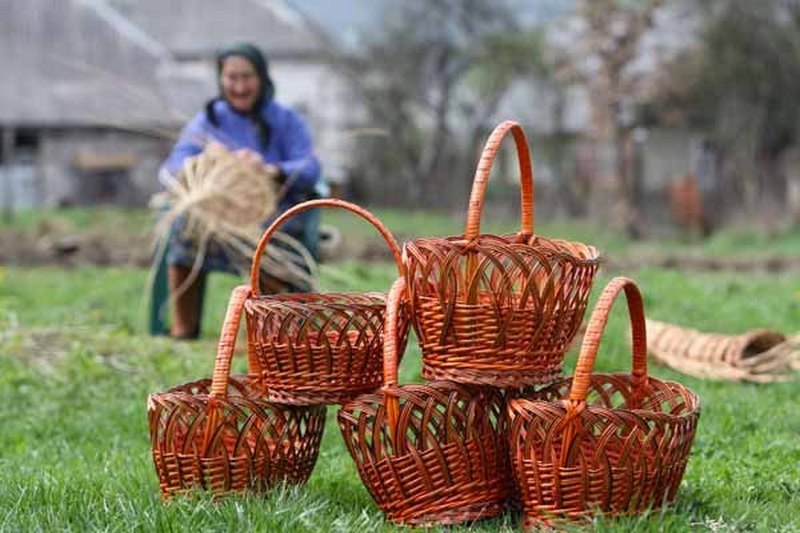 Source
Iryna Myroniuk,
The Human Rights Fund "Progress"
In preparation material were used materials from the following sources:
1. http://romipen.euweb.cz/Romipen-7-site.html
2. http://rombase.uni-graz.at/cgi-bin/art.cgi?src=data/ethn/work/basket.en.xml
3. http://www.khustnews.in.ua/novini/khustschina/72-loza-y-ocheret-goduyut-cliy-rk.html
PS: The project "Empowering Roma communities of Mukachevo district in decision making at the local level" is implemented by Human Rights Fund "Progress" with the support of Roma program initiative of the International Fund "Renaissance".