The Pushkin's Carousal with Roma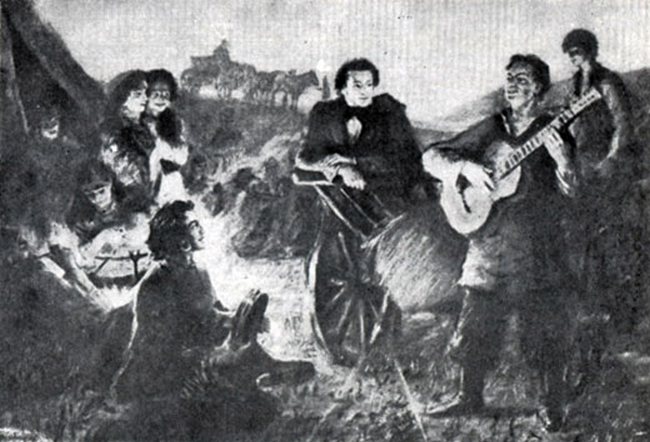 Pushkin in the Roma camp. From paintings B.I. Lebedev. Source
Is it true that the great poet lived in the Bessarabian camp, fell in love with Romani woman Zemfira, who broke up with him and he wrote a poem about his favorite? On this question is trying to answer Kirill Golovastikov in his publication .
The legend that Pushkin in his youth wandering around a month with a Roma caravans in Bessarabia, was born thanks to Pavel Shchegolev.
In 1908 he published memoirs of Catherine Stamo recorded from the words of her nephew, Romanian Socialist Zamfir Arbor Rally:
"One day – told me my aunt Catherine. – Your father was going to visit one of his estates – Dolna. Between this and other estate Iurceni, in the woods was located Roma settlement. Roma village also belonged to your father. I remember that once Alexander Pushkin went with your father in Dolna and from there they went to the forest Iurceni and of course visited the Roma. In the camp was an old bulibashu (the elder or baron), known by his authority among the Roma; the old bulibashi has a beautiful daughter. I remember this girl, her name was Zemfira; She was tall, with big black eyes and long curly hair. Zemfira dressed like a man: wearing colored trousers, lamb hat, embroidered Moldovan shirt and smoking a pipe. She was real beauty, and she had a rich necklace of various old silver and gold coins, which twined her neck. Of course, she gets it not from one fan.
Alexander Pushkin was enchantments by her beauty that he begged your father to stay for a few days there. They stayed there for two weeks, so my father was troubled and sent a man to know if maybe something happens with young people. So, to our mutual surprise, news came from Dolna that your father and Alexander went to the Roma camp that moved to Varzareshtam. After receiving this news, my father immediately sent another letter to his brother Constantine, and we looked forward for the response. Finally, we got a letter from his brother – it was written in Greek – and father read it, declared to us that nothing much happens, but Alexander Sergeyevich simply going crazy on Romani woman Zemfira. After two weeks our young people finally returned. The brother told us that Alexander left him and now he lives in the bulibashi's tent.
Everu day he and Zemfira wandered away from camp and brother saw how they hold hands and sit silently in the field. Zemfira didn't know how to speak in Russian, Alexander knew, of course, a few word on the Roma-Moldovan dialect, which she speaks, so they both, probably, explained with using a pantomime. Because of Alexander's jealousy, who suspected Zemfira a certain predisposition to a young Roma, this idyll would have delayed for a long time, but jealousy is placed over the most unexpected way. One early morning, Alexander woke up in a bulibashi tent and saw that Zemfira disappeared from the camp.
It turned out that she ran in Varzareshtam, where Pushkin ran also after her; but she was not there, thanks, of course, Roma, who warned her about Pushkin's coming. So, the prank of Pushkin ended like that."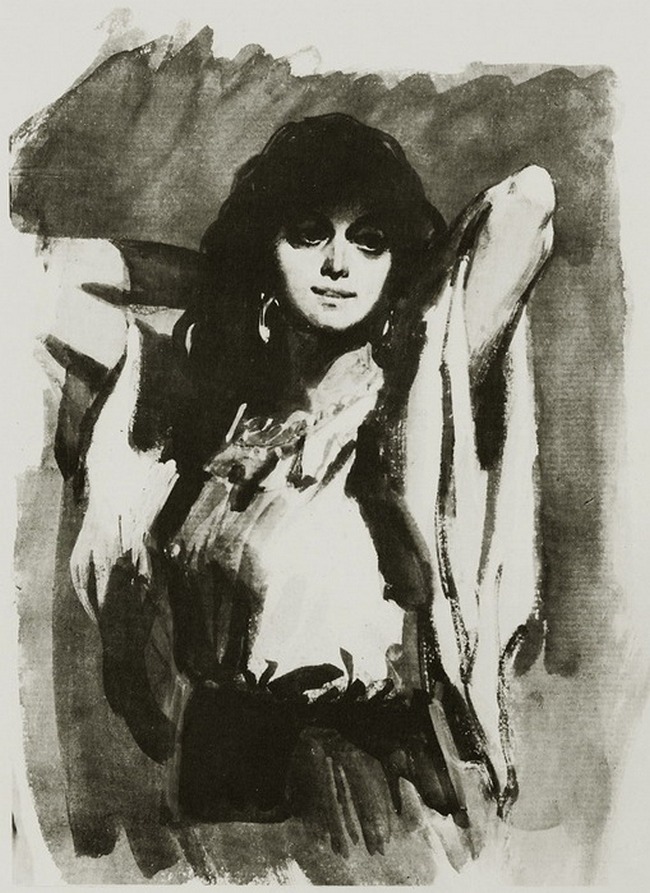 Illustration to Pushkin's poem "Roma". Source
Shchegolev publication contributed not only to spread the legend of the poet's "Roma Love", but also affected the interpretation of his all works. Pushkin confirmed that he learned from experience about Roma life and used that knowledge when he wrote the poem "Roma".
"Then, when Alexander Sergeyevich went from us – told me after a short pause aunt – he sent me his "Roma"- beautifully written poem, and we are all much laughed at the passionate imagination of the poet, created from our Zemfira, his freedom-loving heroine; As incorrigible egotist Aleko, in my opinion, he was wrong; this is not an egoist should go to the Roma camp. With Alexander I spoke about it this "amourette", and he didn't say anything from the coming time from the village about all his escapades with Romani Zemfira. Your father wrote Pushkin in Odessa about the future of his heroine; the fact that Zemfira stabbed her beloved Roma, and she had really tragic end in her short life."
Subsequently, however, the memories aunt questioned: in particular, it appears that Constantine Rally "host" of the camp and allegedly accessory of the Pushkin's adventure was at that time ten years old. According Oleg Proskurin, the researcher of Pushkin's biography, the legendary story of the wandering poet understood, for example, the writer Paul Vyazemskij – second son of the Pushkin's friend Prince Peter Vyazemsky:
"In the 1827-1828 years around me most sound poetry of Pushkin's "Bakhchisarai Fountain" and "Roma." I remember my mentor, Theodosius Sydorovych Tolmachev, in the winter of 1827-1828, drawing my attention to the benefits of "Roma", explained that Pushkin wrote from nature, he wandered on Roma camps in Bessarabia, and has even been criticized for immoral life, what was very unfair, because the writer and artist have every right to live in criminal environment for their study, if it's needed. This legend that explains the nature of the apparent transfer of Roma life in the imagination of a child drawing only mysterious pleasure out conditions and narrow confines of family life."
According to Proskurin, now "we can say more or less fairly on Pushkin contacts with Roma: Pushkin probably seen Bessarabian Roma and, most likely, out of curiosity, visited their camp (village). Everything else is unfounded speculation." Pushkin really knew more about the Roma comparing with his contemporaries – and it shows poem, especially a draft preface to it, but not for personal nomadic experience, but from book learning.
Translation by Iryna Myroniuk from the source http://arzamas.academy/materials/23