Visiting Roma Baron Arthur Cherar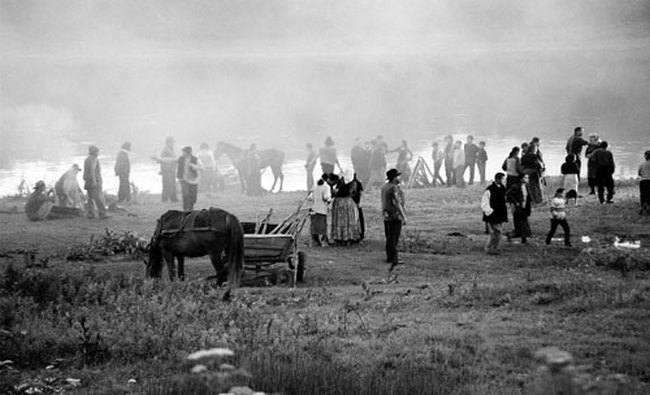 Director of ethnographic research fund Vladislav Ketkovych visited a Roma settlement in the Soroca City, and described their meeting.
On the bank of the Dniester, tents and carts stretched; smoke from fires stretched to the river. Western sun illuminated the true Roma camp spread out on the lawn. Women in colorful skirts and bright shawls went back and forth in little groups laughing, dragging stuffed with towels and food baskets; throughout the playing children. Men unharnessed horses from the carts and took them to a nearby lawn; someone already inflated the forge bellows. Dark-haired beauty in a red dress, sitting by the fire, read the Alexander Pushkin's hand, and he looked so awkward here in his coat and hat. Soon the two of them rise up and go for a boat ride. They are in love with each other. Pushkin is gently holding lady's arm in his arm, she looks into his eyes.
Suddenly, the man in vest and with a megaphone appears among the camp and begins to shout: "I warned: no cell phones! Why still people in jeans in the foreground? Focus, it is already growing dark!"
It is the director of the "Mosfilm" screening the film about Pushkin, and as the filming location was chosen Moldovan city of Soroca. This is where the crew managed to find enough Roma in national clothes, with original utensils and horses. In fairness it should be noted that Pushkin never was to Soroca and he met his Zemfira in a nomadic Roma camp near Chișinău.
That was my first encounter with Roma. They impressed me with their innate talent for impersonation. Indeed, the shooting of this episode took one evening only. At about five o'clock on the road appeared the black BMW, "Mercedes" and other expensive cars, from where Roma from Soroca went out; director explained their creative task: Roma got dressed in ancient costumes that they brought with them, and on the banks of the Dniester a Roma camp appeared. When the set time is over and the sun set somewhere behind the Dniester, the director could say with satisfaction: "Cut!"
Soroca became the capital of the wandering Roma in Bessarabia in the XIV century. It is believed that Roma get the land from the Moldavian master Stefan Cel Mare (in Russian tradition – Stephen III the Great, ruled there during the 1457-1504), the famous general who defended the independence of a small country in the wars with terrible, at that time, Ottoman Empire. Folk legend says that once, being in these places, Stefan faced a numerically superior enemy forces. He levied local residents to his troops, but they did not have weapons. Then, the local Roma came to help the master, namely known blacksmiths and craftsmen for the manufacture of swords. In the short term Stefan armed recruits and won another victory and by gratitude gave to Roma the ground near the picturesque Dniester. Since that time, some of them have lived in this place.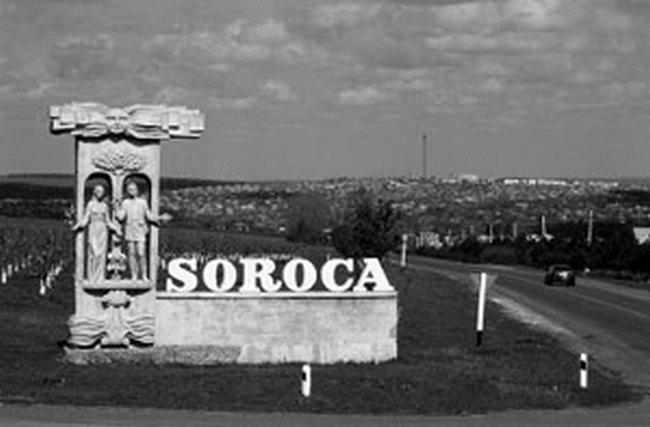 Indeed, the Soroca City differs from the others due to the fact, that Roma live here for a long time without moving – in contrast to the most Roma people who lead a nomadic way of life. Even in times of Pushkin here lived permanent community of Roma citizens who worked mainly as blacksmiths. For several hundred years among the Roma here are the same names – Cherar, Preida, Chebotar, Gruia, that have become markers of belonging to one of the prominent Roma families. Other nomadic camps often came to visit the Soroca Roma. Gradually, the city became known as Roma capital, and it effectively became a major center for Roma among the CIS countries and countries of South and Central Europe. It is believed that a representative of the Roma people living in the vast territory must necessarily come here at least once in life.
Currently, 10 thousand Roma are registered in the city (the entire population of Soroca is about 37 thousand people), but most of them, about 80%, are permanently away, they go back to their families only twice a year – at Christmas and at Easter. During these holy days Soroca is full of people: churches are filled with parishioners, at the cemetery – remembrance of the dead, in the streets and in homes – shouting, music and laughter. If you want to experience the flavor of Roma life, get to the city these days. So did operator Oleksii and me, coming to Roma at the beginning of the Easter week. The impression of the city: regular feasts, festivities, many happy and inspired people. Arriving relatives and friends are treated by the Roma women with stuffed cabbage, turkey and various dishes of Moldavian cuisine. This feast is constantly interrupted by the song or dance or visit to the neighbors.
Even commemoration of deceased that are in their forties to huge cemetery in Roma parent Day Easter Week reminds a holiday. At each vault or tomb the holiday table is covered by the relatives, fruit, wine and flowers are offered. Soroca is celebrating all day, give each other gifts, and long remember recently deceased relatives. The burial is the special pride of Soroca. Not find anywhere else so magnificent crypts, some of whom are known, for example, Baron Mircea Cherar, the father of now "ruling" of all Roma the Baron Arthur Cherar. Mircea was a recognized Roma Baron in the USSR, he enjoyed enormous prestige not only in Moldova, but also among the Roma in Europe and was buried in 1999 with appropriate honors. In Soroca are persistent rumors that the crypt Mircea concreted not only his computer, fax, mobile phone and other office equipment, but also the car "Volga", which is quite possible, judging by the size drenched concrete slab. Arthur Cherar confirmed the burial symbol of wealth and high position in the tomb of his father, but with talk of "Volga" politely declined.
In Soroca City Roma have chosen to stay in the central elevated part of the city, which is called Romani Hill. This area is built up with tremendous of 3-4 stores. Here you can find in the decorations ornamental lions, eagles and even crocodiles. Among the architectural extravagance can be found ancient Greek gods, and the figure of Justice, and various religious symbols. One of the houses is decorated with a copy of the spire of the Admiralty, the other dome resembling a mosque, and on the third roof raise four huge iron horses. Each mansion of Mountain Roma is individual and unique.
Having decided to take a photo of horses on the roof, Oleksii and me found that sneak into the house, and especially on the roof, impossible. The three-stored building was unfinished, boarded up and uninhabited, like most of these huge houses, palaces. As homeowners, rather, a small part of some family, constantly living in Soroca, usually crammed into small houses. There are several reasons that are explaining this situation. First, Roma do not need these huge houses, because they are difficult to heat in winter and it's lonely here without all family.
The construction boom in the Soroca came in the middle of the eighties – early nineties, at the time Roma had money in abundance. It was the heyday of the cooperative movement, and now many remember it as a golden age in the history of Soroca Roma. Naturally initiative and entrepreneurial, Roma created private enterprises producing knitwear, underwear, socks and other small items. Business made profit as long as the market was not flooded with cheap Chinese products. Roma cooperators cannot compete with them. It's difficult to say, how Roma earn their living and expensive foreign cars now. I believe that it is a relatively legitimate business – resale of goods, trade, financial transactions, because the Roma live in all Eurasia. I do not share the common opinion on drug trafficking as a major source of income for Roma. Many of those I met, and their leader Arthur Cherar sincerely grieves such judgments. So what can I say, if the most Soroca Roma were expelled from the cities by the owners of buildings where owners traded drugs, and most of their homes razed to the ground.
Modern Soroca Roma before any new serious business, and just before making important decisions try to visit a fortune-teller – of course Roma. While their staying at Easter or Christmas they have a possiblity to do it, and at the gates of the most influential predictor collected dozens of people. In the city is about ten fortune-tellers, and the oldest and experienced of them Kali Chebotar with an ancient Indian name. Kali wondering not only on the hand and cards, but "consults" with icons that adorn her fortune-teller angle. Guessing accompanied by inflammation Orthodox Church candles and prayers, which after reading fortune teller sits and listens to "answer" or her inner voice. The ancient practice of magic Roma organically combined with Orthodoxy. Despite some abuse of official Christian doctrine which would cause disapproval of the conservative Orthodox priest, Roma are religious. They visit churches, in homes there are a lot of icons and they are follow Orthodox rites.
The Roma Baron of the "the whole Moldova", as proudly stated in his business card, Arthur Mircea-Mihailovich Cherar, lives with his family in a large three-stores house. His business cards are decorated with the Baron family symbol – two horses, knocking hammer on anvil, and a color portrait of Arthur Cherar, in a laurel wreath and gold crown.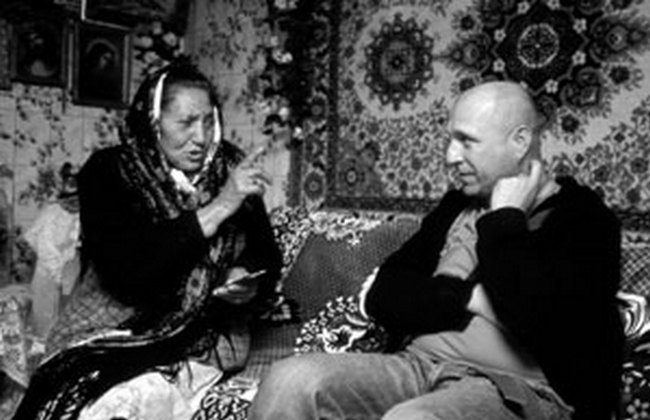 The author listens fortuneteller's prediction
For baron there is no need to leave Roma capital, and he ran out of time, effort and money to complete construction of his residence. His house, though the outside is decorated modestly compared to others: no reliefs or sculptures, or even curls on the walls. But near the house are parked two government ZIL("They are father's, from Andropov's garage," – says in passing cars Arthur) and guard house, two cars and handsome Rottweiler in his prime. Passing by barking dogs on us, Baron strictly call them and powerful dogs obediently wag their tails. Inside the house of the Roma baron is a lot of to see: there are a collection of weapons and antique furniture, Persian rugs and a collection of jewelry. "Some, of course, inherited from the father, some presented by citizens, and something managed to earn by modest work" – smiles Baron.
This handsome man with a long gray beard and gray hair, perhaps more than others looks like a Hindu or Persian. Talk it soft, smooth movements, he often smiles. Learning that he's only forty, I wonder. "It's because of my varied life – says Baron. – I was involved in many ways in the life". As a child he traveled with the family of his father, and in his youth, he changed so many professions that would be enough for several people – was a driver, tailor, electric welder, jeweler, commodity, engineers and, of course, a blacksmith. If necessary, he can and horse shoe, and lathe work. Many roamed the world, mainly in the Soviet Union, Romania and Hungary. "I could not resist, I want to roam" – with a smile says Arthur. He was also a student at the Moscow State Institute of International Relations (although he studied there only one year), and he was an actor of the Moscow Romani Theatre "Romen".
Since childhood Arthur loves music, he is musically gifted man. He himself learned to play the different instruments – piano, saxophone, accordion and clarinet. "Accordion is my favorite tool," – said baron. During the feast in the neighborhood where we had gone in the morning, with accordion, he almost never parted, even did not have time to eat. During that Roma danced under different tunes from the "Amur wave" and "Pour song on the area" to modern pop songs and tunes from films trendy filmmaker and musician Emir Kusturica.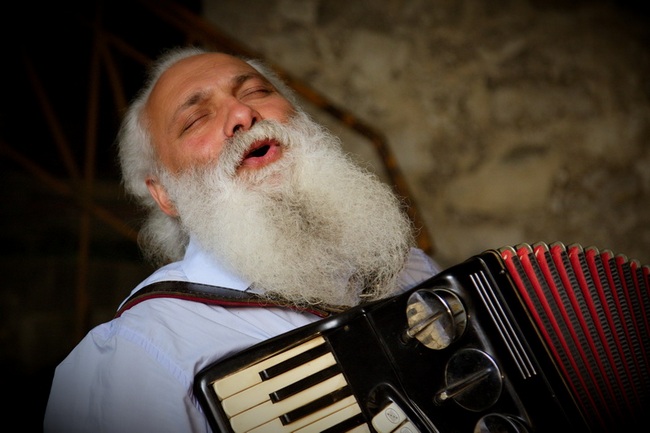 Arthur Cherar. Source
On weekdays Arthur is usually serious – too many things to do, especially after the death of his father. He decides administrative disputes and legal affairs, meets with members of the Moldovan government. His dream is to address in the European Parliament in Strasbourg, for what he has prepared a speech. The issues which Arthur Cherar is going to touch in a speech are wide – from program selection and Moldova Roma in the CIS loans for small and medium businesses to creation of the Romani faculty at the Sorbonne. He worries about facts and infringing on the rights of Roma in different countries and ethnic associations of people – Roma from Poland, the Czech Republic, Romania, Hungary, Bulgaria, Russia, from which he wants to create a unique Roma Coordination Council. Arthur planned to open international Roma Bank. At home there are also a lot of cases: Arthur discusses with the government the creation of a free eco-economic zone, the Dniester rehabilitation center for drug addicts, low tax for Roma firms and the creation of the Museum of Roma. He decides the financial and administrative disputes arising between Roma. When we had lunch, Artur treated us with soup and wine; suddenly his relatives came from some distant village and began to ask that the ransom should be given to the family of his wife, if he's going to go to another woman. Even such a question, if it appears, Roma decide to resolve not through the courts, but through their highest judicial authority – Baron.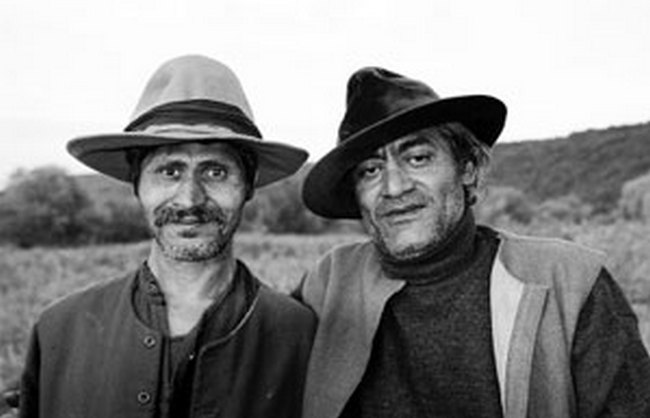 During my travels, I often think of Roma and Soroca. Sometimes I think of the bird of the same name (Soroca in Russian means magpie). Magpie – is a bright bird, loud, of unusual color. Whether by chance the name of this bird is equal with the name of the city that has become home to people that ever came into our region from distant warm India?
Translated by Iryna Myroniuk from the source http://geo.1september.ru/article.php?ID=200600119