When Jazz Unites Generations, or a Life story of the famous Roma Musician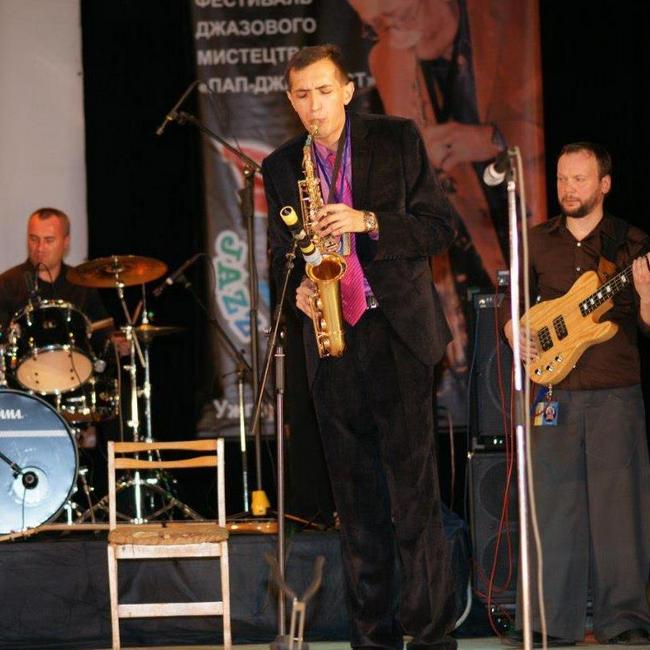 Eduard Pap
Eduard Pap, renowned saxophonist and member of the Pap jazz quartet, talks about his two biggest passions, united in one thing: the music and the development of the Roma community. He believes that the popularization of the Roma music will not only preserve Romani culture, but also become a stepping stone to understanding between the communities of the country.
What is music for you and who or what inspired you to create it?
Music is my life. I'm not just doing it because it's my hobby. I'm a professional. This is my main area of activity. I just cannot imagine life without music, as it was heard in our house since my childhood. I got inspired by my grandfather Villi Pap Elder – founder of the only in Ukraine Pap Jazz Fest, Honored Worker of Culture of Ukraine. He was a famous jazz saxophonist, not only in Ukraine but also in the former Soviet Union.
But for me, this is not his main achievements. My grandfather opened for me another world, the world of art and creativity. Since childhood, he did everything, so that I was knowledgeable in many areas. Of course, he saw in me a talent and thirst for music. He was my very first teacher who cultivated in me the unbridled love to the Roma culture in general and the music in particular.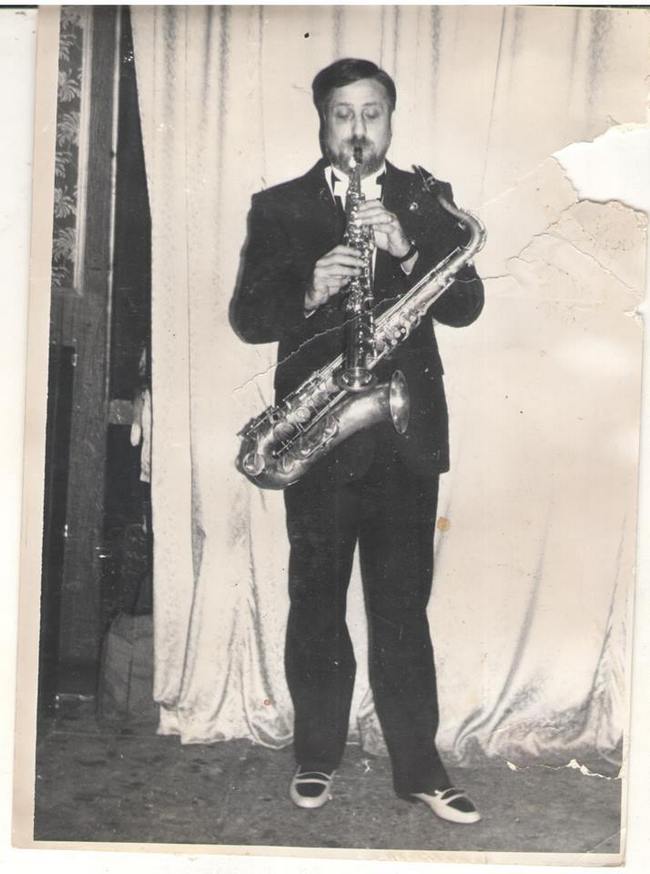 Villi Pap Elder, Kyiv 1983
If Villi Pap, your grandfather, was your first teacher, who was the next one?
I started playing the saxophone as a 9 year old child. It is not only at home, but also in the P.I. Tchaikovsky Music School. Then, I realized that it was too little, and I want to continue my education. So I started to study at the Uzhgorod D. E. Zadora State Music School. However, this is not all. Currently, I am a graduate of Kyiv National University of Culture and Arts. And I'm not going to stop there. I want to continue education, probably, abroad. As we do not have a separate department which teaches purely jazz music.
That was your grandfather who taught you to play the saxophone. Can we say that this is a family occupation?
Yes, it really is our family occupation, with both sides of ancestors. In 20ies of XX century, the grandmother of my grandmother Veruna Latsko was a diva in the theater. Tomas Masaryk by himself personally handed her gladioli after premiere. Her son Eugene Latsko and the grandson Eugene Latsko Jr became known violinists who played in the Philharmonic, groups and orchestras. Eugene Latsko is a grandfather of my uncle Villi Pap Jr.
I listened with admiration to the stories of my grandfather about the Roma music and our family. In our family almost all were musicians. Back in the 30s of XX century, my great-grandfather Aladar Pap Sr. lived in the village Batiovo (Berehove area) with his family. It is well known that the traditional Roma instrument is the violin. But for him it was not enough, he wanted to bring a new trend in the music. Listening to the incredible saxophone, he decided that it should be the work of his life. He was the first saxophonist in the territory of modern Transcarpathian region.
The people liked it so much, that the family decided to grow more in this direction. Later, he passed his musical relay to my grandfather Villi Pap Elder who mastered this deal to a new level. He became a virtuoso who toured the world and took part in jazz festivals.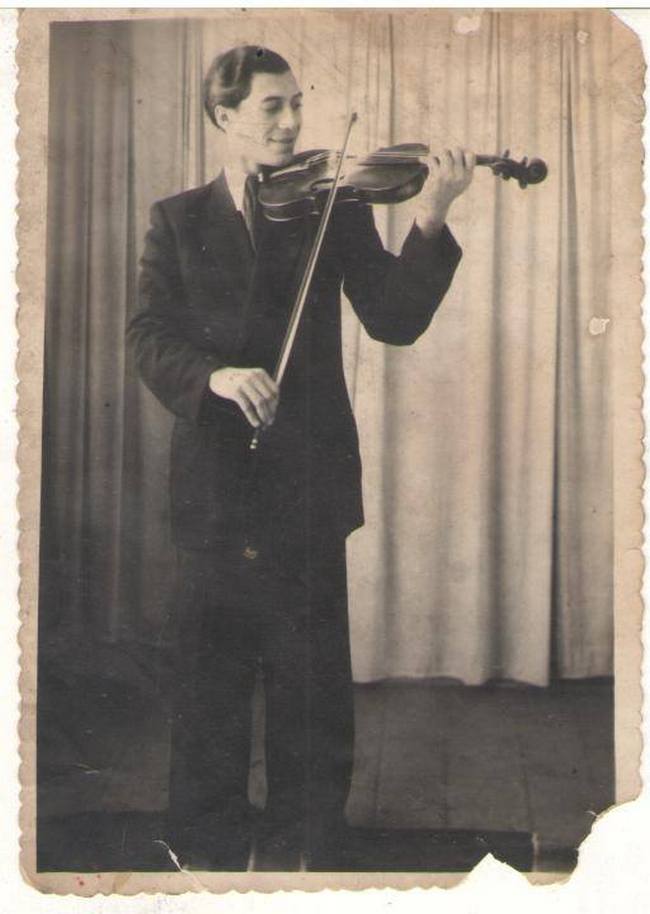 Eugene Latsko
But your grandfather went much further and created a whole Lautari Roma Musical Culture Society. Tell us please a few facts of history and about the present state of organization.
Villi Pap Elder in 1998 founded the organization "Lautari" to the revival of Roma culture and arts. When my grandfather lived, he embodied our big dream – the creation of a Roma theater "Lautari" in 2000. In our repertoire of musicals were "Kalo Roma" and "Wedding of Lautari" which showed the life of the Roma people, their traditions, culture and way of life, skillfully combined with modern and jazz rhythms. Moreover, in 2003, our theater group was awarded at the International Romani Art Festival in Poland.
Unfortunately, our theater has suspended its activities due to the lack of a large number of Roma professional artists.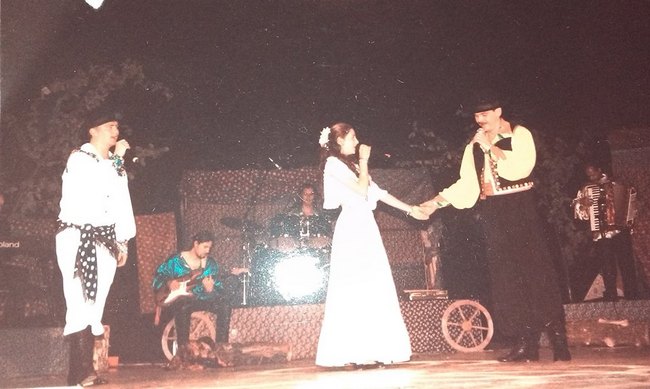 The premiere of the musical "Kalo Rom"
However, you also can easily solve this issue, working with ensemble "Lautari"
Yes, we are creating the large professional team of the Roma artists. In 2009, my grandfather Villie Pap Elder prematurely passed away, and all management of the company went to my uncle Villie Pap Jr. – talented composer, musician, counselor of the governor of Transcarpathian region on the Roma community. It was he, who in 2011 founded the ensemble "Lautari" on Transcarpathian Regional Palace of Children and Youth "PADIYUN."
Here, we deal with not only music, but also singing, dancing. Here, we prepare our performances. Here, we share experiences, support each other and take pride in our culture. Currently, we have about 20 members. But should highlight the positive tendency, that the cast of our ensemble is constantly growing.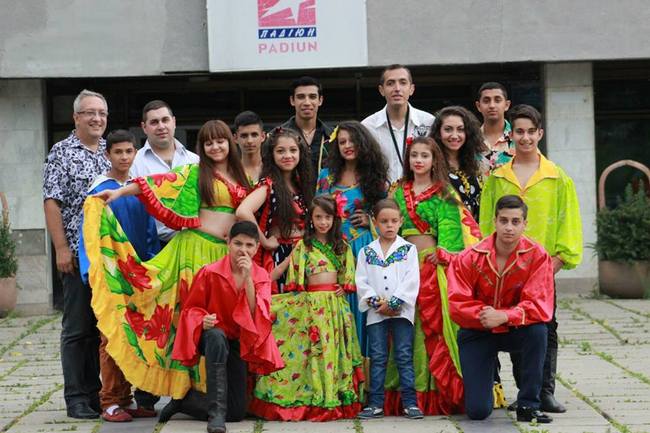 Еnsemble "Lautari"
How would you assess the development of Roma music? What prospects are waiting for it?
Our company and the ensemble have many ambitions.
Firstly, we see activity on the part of Roma youth. The cast of our ensemble is joined every time by new talents that we develop. We help them grow professionally and not to forget the history and culture of our people.
Secondly, the successful Roma music festivals and performances of our quartet help us to again make sure how important work we do. We have a large number of people who are waiting for our performances.
And finally, we are confident that with time, we will renew our theater activity that promotes the culture and customs of the Roma population.
What do you want to convey to your audience when you perform?
First, it is important to preserve our Romani color, namely our culture, traditions and customs. But this is not enough to show our experience and achievements. No wonder, we act not only for the Roma community. Our main message to people is that we are a distinctive part of society that has its own history and culture. We can learn and become successful in society. We try to break the stereotypes that unfortunately prevail in our society.
Now, we stand at the regional level, but plan to go national and international ones. Only this way, we can show who is who. Moreover, our music is updated, and will capture not only the supporters of the classics, but also young people. By 2013, we made only folk music and jazz. But now, our repertoire includes modern, classical, pop and folk music.
I am sure that many people know about the national jazz festival, which was founded by your grandfather.
Yes. What my grandfather founded the festival that takes place annually. The idea of creation came by chance. In 1997, Villi Pap Elder, along with his Pap Jazz Quartet went on an autumn jazz marathon to Kyiv. There, he thought, why not create a separate Roma Jazz Festival? And next year, namely 1998, was the first jazz festival in Uzhgorod. It was a remarkable event which has received incredible support, not only in Ukrainian, but also in international scale.
This tradition continues. The festival takes place every year. This year, we decided to combine the date of our festival and with the anniversary of Pap jazz quartet. We are as much as 20 years! So, on November 11 this year, we invite all fans of jazz to join our celebration!
Photo and video taken from the source

Interview recorded by Iryna Myroniuk for the Chatitable fund "Progress"
PS: The centers of legal information and advice that provide free legal aid to Roma people working with the support of the "Roma of Ukraine", International "Renaissance" Foundation. To learn more about the activities of a network of centers, foundations and principles of work visit the website www.legalspace.org under "Legal Empowerment of Roma communities." The views in this article are those of the authors and do not necessarily reflect the opinion of the International "Renaissance" Foundation and other civil, religious and political organizations and individuals.