New Year Celebration in Mukachevo Roma Settlement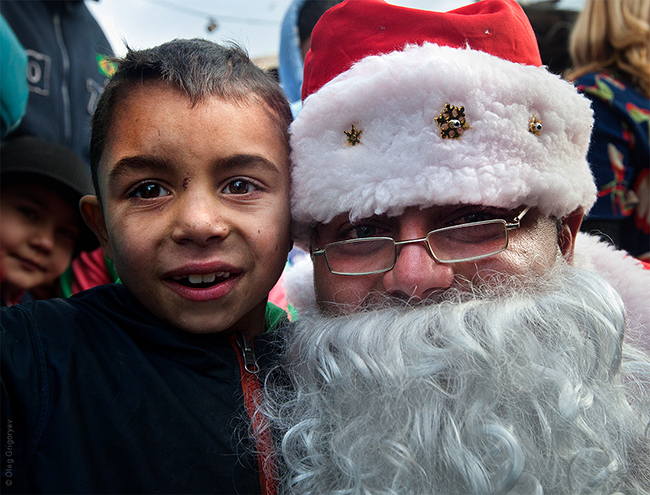 Today, on December 30, 2014, we had a small but very emotional celebration of the New Year in Mukachevo Roma settlement. Well, in order to young Roma feel warmth and joy, we collected and distributed 410 sweet gifts.
Since there were many gifts and only two suits, so we had to wear our Renata (the lawyer of the Fund) in costume of nurse. At first the children were frightened, and then we broke the stereotype of doctors and Renata was the favorite. With Santa we were lucky too. At the time, we helped him to recover passport documents, so we can safely assure you that Santa Claus exists and he is legal.
Within 10 minutes after we put the music on, the amount of children began to grow exponentially.
We started entertainment: kids screamed for joy, happy to tell poems, sang songs and danced. And the most active children received two gifts. Parents did not manage to get children away as they returned to knees of Santa Claus and tested his beard for strength.
Nothing is more desirable and more pleasant than to see children's faces with cheerful and happy smile, and thus realize what you gave them a moment of happiness, a storm of emotions and unforgettable impressions!
We want to repeat once more time: do not divide children into friends and foes!
In turn, we would like to express gratitude to all the residents of Mukachevo, who joined the campaign and contributed to the event. It was very nice when people called, came to us and offered money, candy and fruit for Roma.
Separately want to thank for Andrij Baloga, who helped us a lot, by providing 200 Christmas gifts.
P.S. Santa Claus suit, which was taken out, was stretched by kids in different directions. Now our lawyers sit and darn it.
All photos you can see on the link below.