The Monitoring Visit of the Representative of the Parliament Commissioner of Ukraine on Human Rights to Mukachevo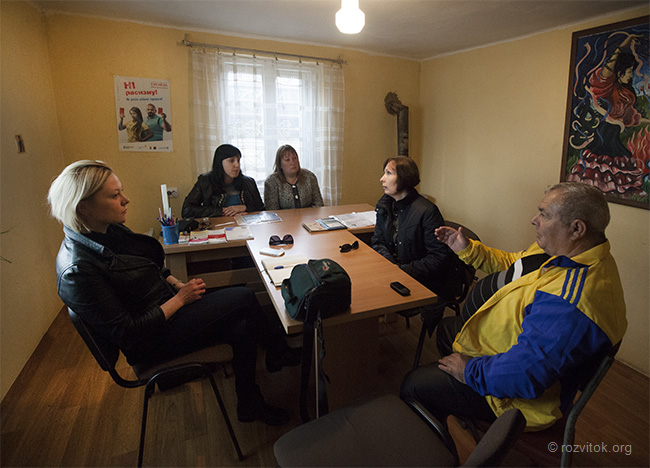 On March 25, 2014 with monitoring visit to Mukachevo came Aksana Filipishyna, the representative of the Parliament Commissioner on Human Rights, and Olga Zhmurko, the Roma Program Initiative Director of the International "Renaissance" Foundation. Accompanied by the staff of Fund "Progress" respected guests visited the office of the "Mukachevo Human Rights Centre", which is located in the Roma camp, where for a long time the staff of Center provides free legal aid to Mukachevo Roma.
Then, our guests had a meeting with Deputy Mayor of Mukachevo, Michael Labosh, who informed about problems that exist in Roma settlement, focused on the issues that were resolved since the last visit and stressing on substantial assistance of the Charitable Fund "Progress" in solving the problems faced by local authorities and the community of the city, which is one of the largest in Ukraine.
Considerable attention was paid to issues such as: the further development of a Roma Self-Government Body in Mukachevo, the problem of water supply in the settlement, a system of providing free legal aid and acceptance of active participation of Roma leaders in solving everyday problems of their community.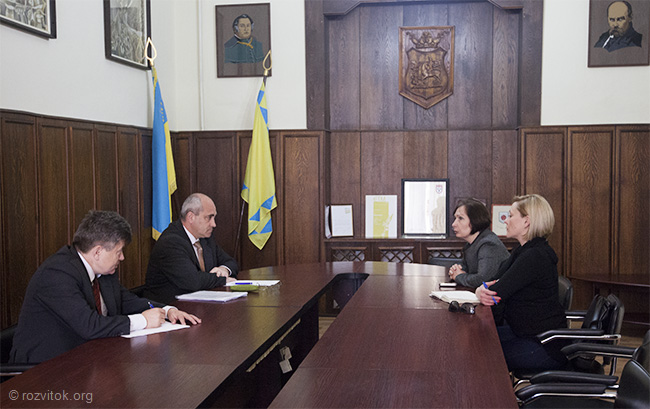 Deputy mayor, responding to questions about the problems associated with the water supply in the Roma camp, said: "In adopting the budget for 2014, a session of Mukachevo City Council approved funding for capital repair of water supply systems in the area of Roma settlement in the amount of 690.3 thousand grivna. But today, the offices of the State Treasury Service of Ukraine in Transcarpathian region, holds vouchers and allocates funds solely on "protected" social articles. At the same time, the city budget has developed the project-technical documentation, amounting to almost 30 thousand grivna. In the near future, there will continue reconstruction of water supply system." It was considered to attract donor funding on works on reconstruction of water supply.
Also at the meeting were discussed issues related to the development and implementation of municipal target program of legal aid that will be developed under the project "Development of the stable system of providing primary legal aid to the people in Mukachevo" with the support of the Fund "Progress", UNO Development program in Ukraine, the Ministry of Social Affairs and the Interior of Denmark and the International "Renaissance" Foundation.
"It is important that under the Law of Ukraine "On legal aid" in our city was implemented the system of providing legal aid to residents of Mukachevo, guaranteed by the state. In turn, this will facilitate the inclusion of the vulnerable group in social and economic processes of the city, improve their legal awareness,"– Deputy Mayor Michael Labosh said.
We state, that the meeting was constructive and productive. The authorities took personal control of the issue of water supply in the Roma settlement and promised assistance in solving social problems of the Roma population.